2019 CMF DESIGN AWARD · Awarding Ceremony was held in Shenzhen, and the award-winning works are appreciated
Author:佚名 Update_time:19-11-02 09:54 Hits:2831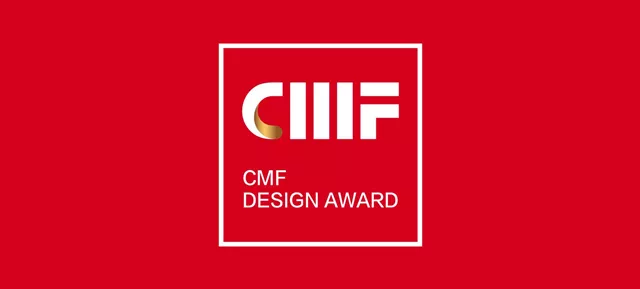 At 7:30 pm on October 22nd, the "2019 CMF DESIGN AWARD" award ceremony hosted by the
Committee Of International CMF Design Award
was held in Shenzhen, China.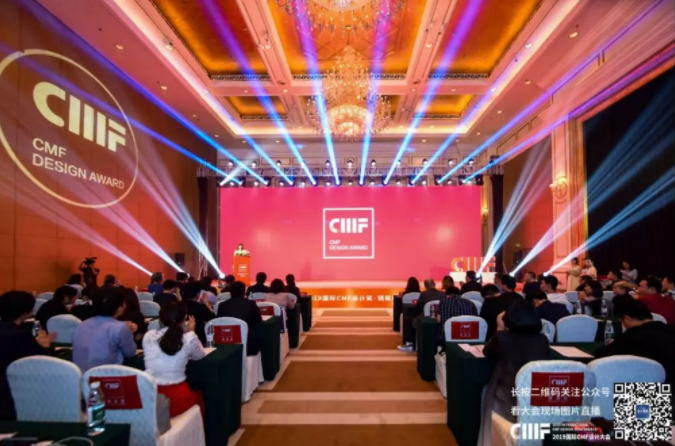 CMF DESIGN AWARD is the first global special award dedicating to CMF (color, material, finishing, pattern), which aims to promote people's awareness of CMF design, to improve people's recognition and attention to CMF design, and to think commonly about the innovative value, social value, humanistic value and commercial value of CMF design.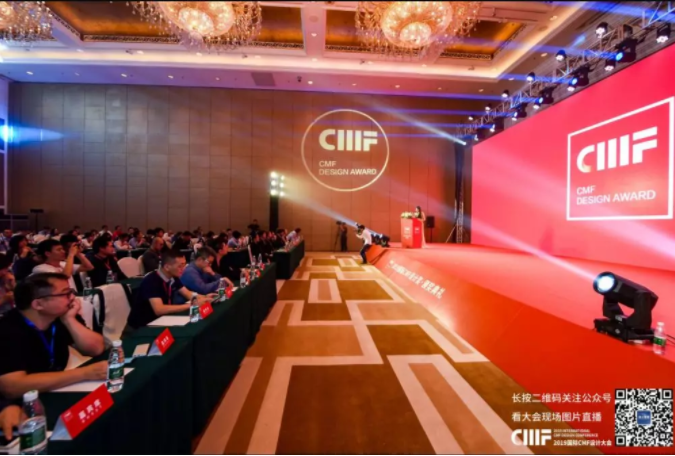 This award-winning work has been selected by the experts of the CMF DESIGN AWARD, and 30 of them have finally won: 2019 CMF DESIGN AWARD! Products cover the fields of mobile phones, automobiles, home appliances, home furnishings, materials, and finishing process.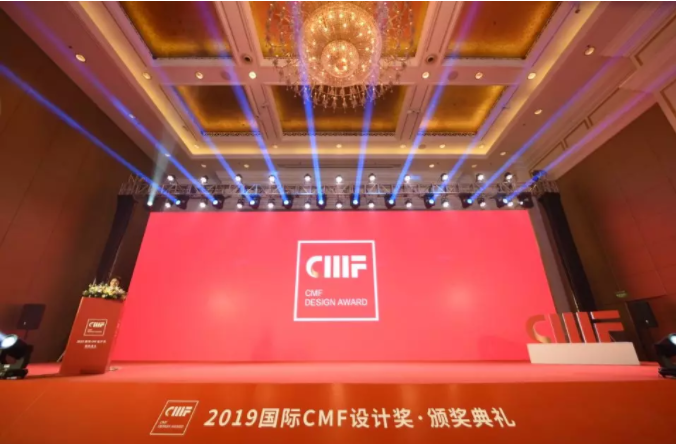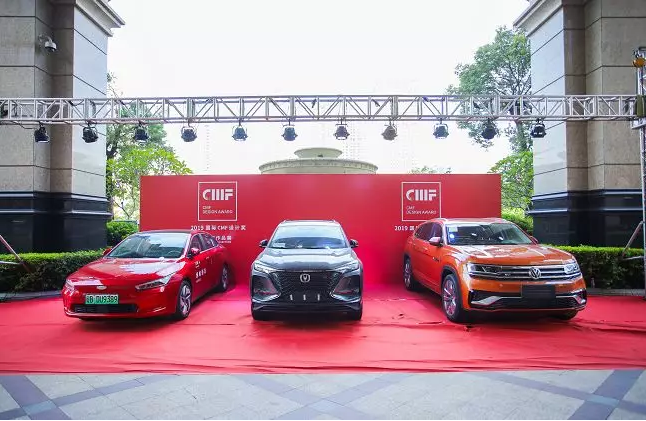 Guests attending the awards ceremony
Mr. Li Yiwen, Expert of Organizing Committee of CMF DESIGN AWARD, Former Dean and Professor of the School of Industrial Design, Nanjing University of the Arts
Expert of Organizing Committee of CMF DESIGN AWARD, Dean and Professor of School of Art and Design, Wuhan University of Technology, Mr. Pan Changxue
Ms. Qian Xiaobo, Associate Professor, School of Design, Jiangnan University, Ph.D. from Politecnico di Milano, Dean of Chengdu Modern Household Research Institute
NIO's currently senior CMF design manager, former CMF manager for Porsche and Volkswagen, and Ms. Marilia Biill
Jury of CMF Design Award, German Color Expert, Professor, Creative Director of Ral Academy, Mr. Timo Rieke
Mr. Markus Frentrop, Jury of CMF Design Award, Global Head of Raul Color and Raul Academy, Germany
Italian architecture and home designer, Mr. Edoardo Petri
Well-known Swedish designer and senior CMF design expert, Ms. Grace Boicel
Anta Creative Director and former Adidas Design Director, Mr. Robbie Fuller
South Korea senior CMF design expert, Ms.JEEHYUN LEE
CMF Design Award Jury, 700 well-known designers, Mr. Chen Mingchen
Mr. Cao Huai, Judge of CMF Design Award, Dean of Department of Industrial Design, Huazhong University of Science and Technology
Mr. Zhang Jun, judge of CMF Design Award, Associate Professor, School of Design and Art, Hunan University
Jury of CMF Design Award, Chairman of ACMT Materials Science and Technology Committee, Material Expert, Doctor, Mr. Qiu Yaohong
Appreciation of award-winning products
CMF AWARD
Hefei LCFC Information Technology Co., Ltd-Ultra-thin and light Carbon fiber Cover
Applicant:Water.Wu, Allenqoo.Huang, James.Tang, Yong.Zhang, Zheng.Hu, Jack.Chou
LCFC has always been thinking and exploring innovative product designs suitable for end-user experience, taking product innovation as the main axis, combining portable personal computers, smart devices, etc., to reduce the weight and thickness of materials, and at the same time have high strength, high requirements of mechanical properties such as stiffness; this lightweight high-strength carbon fiber composite material is undoubtedly the first choice; however, the use of carbon fiber composite materials in the field of notebook computer products has high process barriers, high cost investment, patent monopoly and other constraints. The application of this material in product design, LCFC has spent 4 years in the development of carbon fiber projects, has invested 3 sets of experimental molds, countless sets of fixtures, and tens of thousands of sample tests to meet the strict test standards of ThinkPand Although it has gone through twists and turns. It finally overcomes various difficulties and successfully achieves the successful mass production of LCFC's independent patent solution, which greatly enhances the competitiveness of LCFC and Lenovo in high-end products and greatly supports the development of the domestic carbon fiber industry.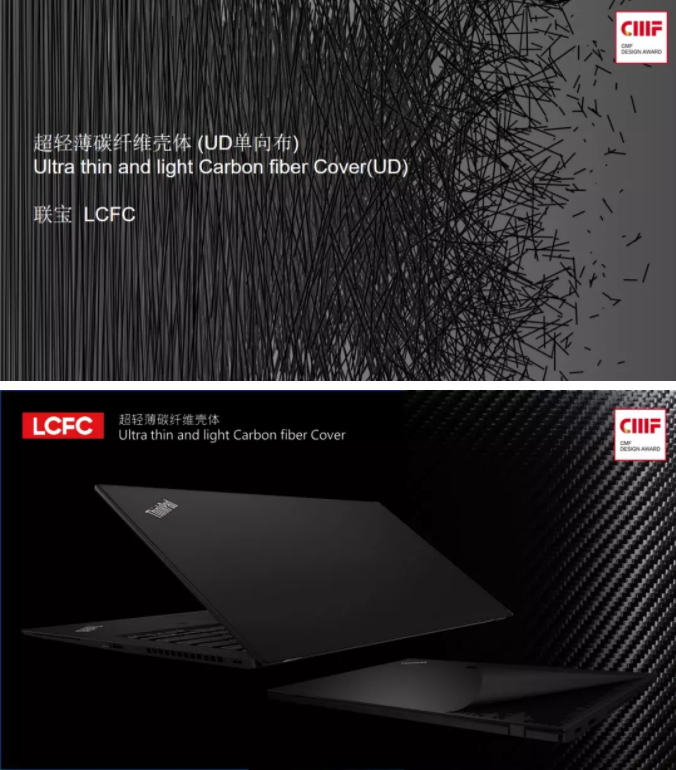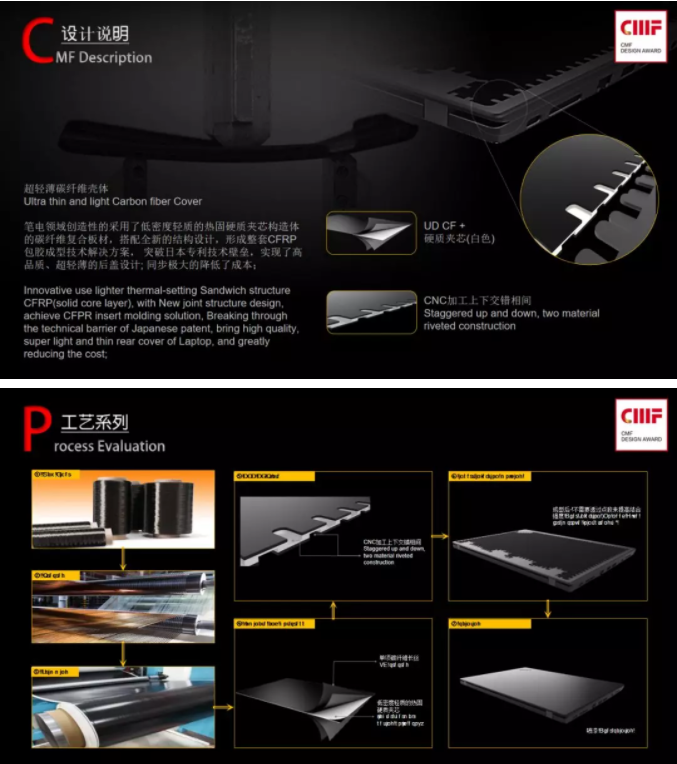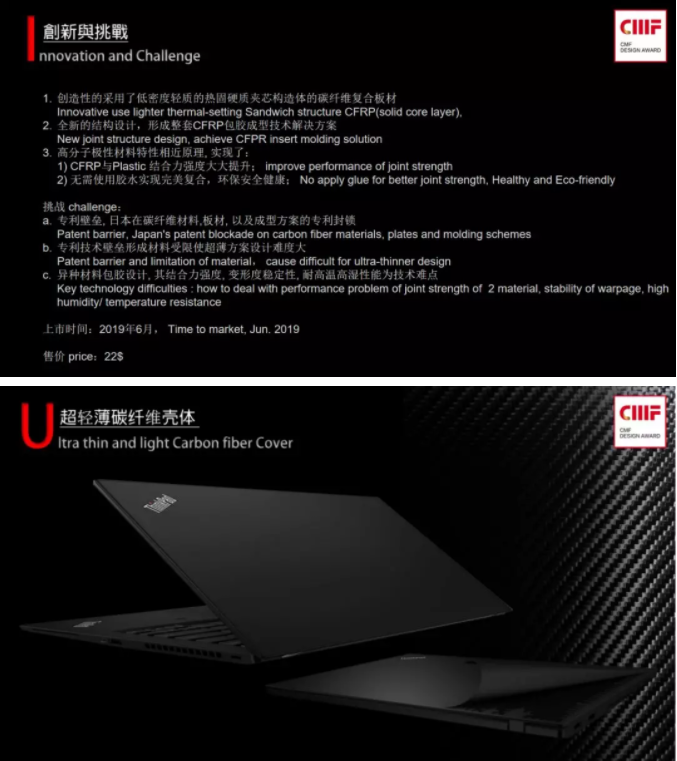 CMF AWARD
Guangdong T&H New Material Co.Ltd.-Dark moon rust
Applicant:Wei Liu, Wenzhi Zhang, Riwei Yang
Dark moon rust is inspired by iron rust. Iron rust is a natural state of the material itself, which not only conforms to the authenticity principle of modern art expression, but also highlights its unique industrial aesthetic and cultural memory functions. The rusty mottled surface contains the vicissitudes of history and the traces left by the weathering of the years. It makes an uncapable concept such as "time" produce a highly visual expression. Excellent color brightness and saturation, under the background of garden greenery, can better show the visual impact of its ability to restore reality. In addition, the rough surface caused by steel plate corrosion can make its structures more volume and quality.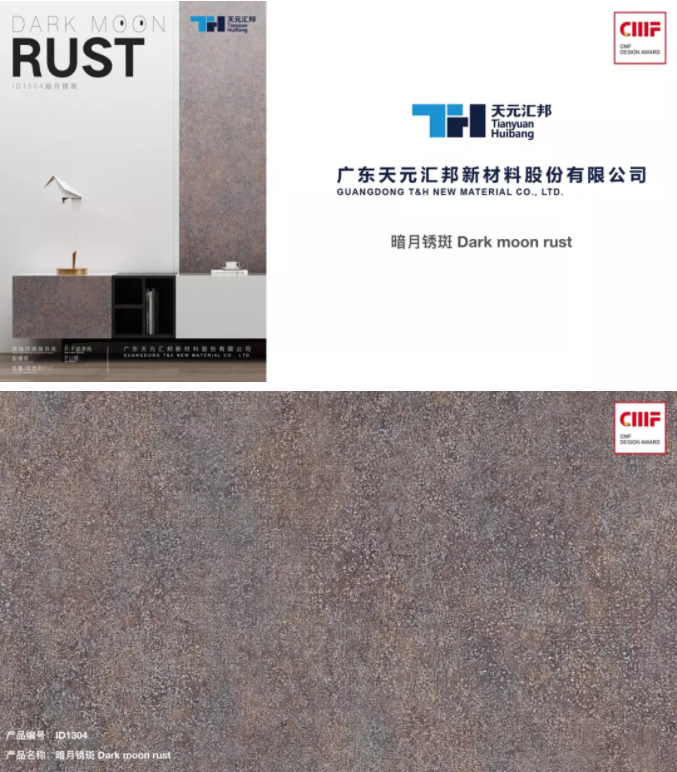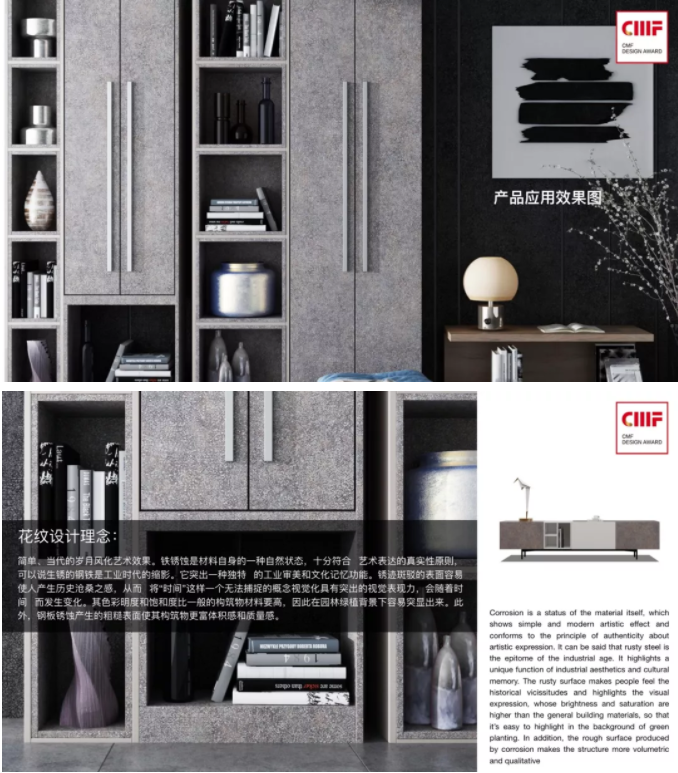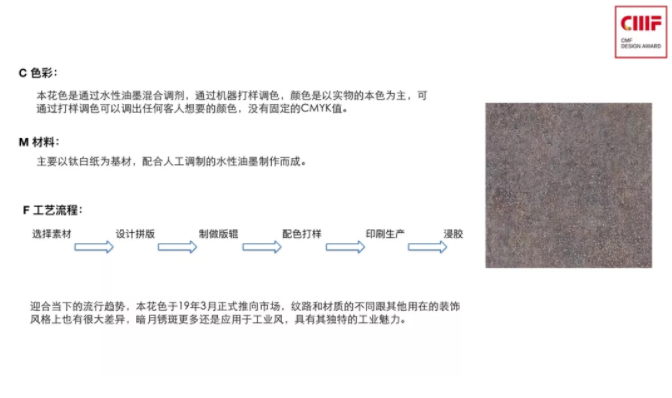 CMF AWARD
Beijing Automotive Technology Center-ARCFOX-GT
Applicant:Bella Lee, Grace Lin, Fan Yang
Exterior paint design concept:
Ice ash: Inspired by polar ice and snow, cold tone, exquisiteness and energy sense; the car paint uses tinted electroplating silver technology, and the combination of color and texture highlights the characteristics of the body and brand image.
Glacier Blue: Melting glaciers present a transparent, pure and energetic blue-green color; using a double-layer color paint finishing process, the bottom layer is gold-green, and the surface layer is blue. By controlling the density of the two layers of color to achieve a yellowish green to clear blue effect, the strong color transition highlights the sense of power.
Interior colors: Inspired by black sand beaches and glacial blue cracks due to volcanic eruptions.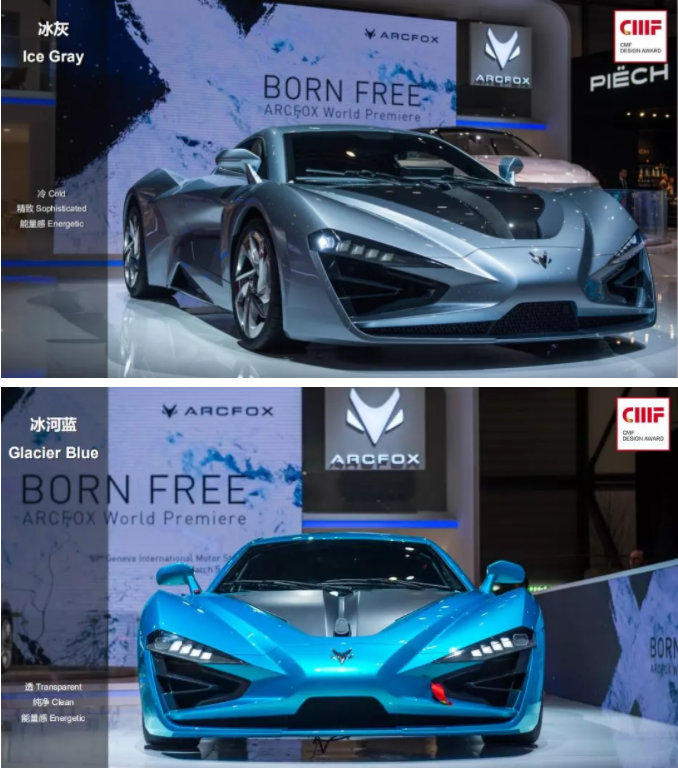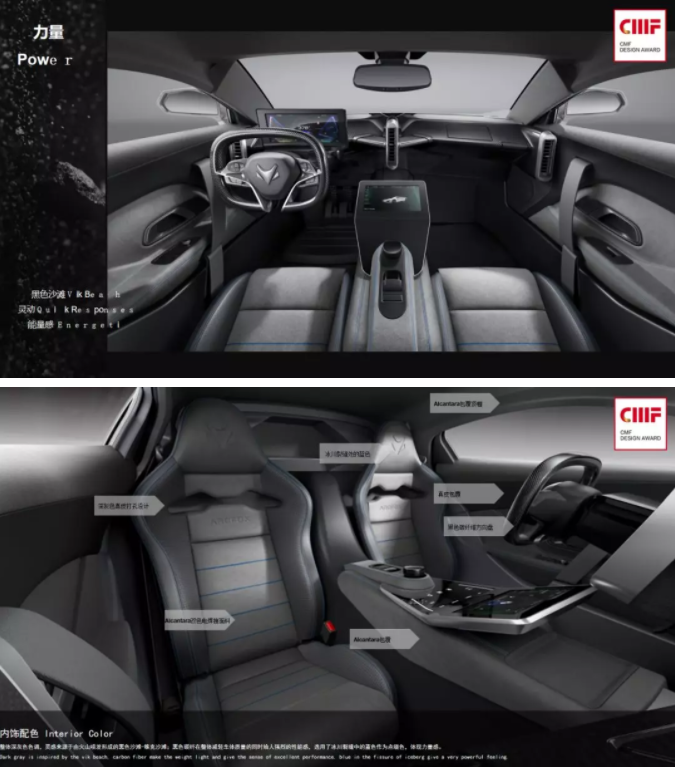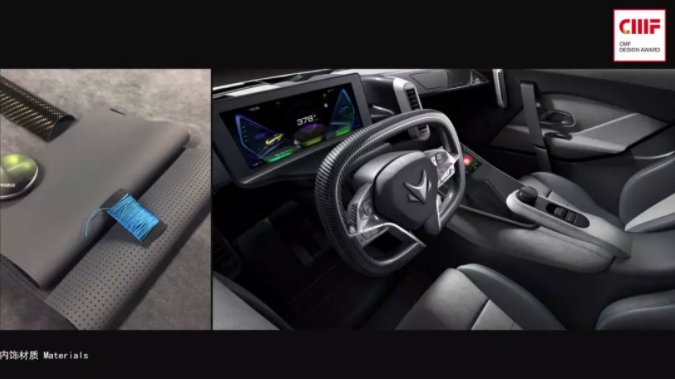 CMF DESIGN AWARD
ArceAlik A.S.-Arçelik Diamond Carbon Fiber Refrigerator
Applicant:
Fire Qiu
When we stare at a diamond, the brilliance of its unique geometric cut makes the world irresistible. The Arçelik Diamond refrigerator with the abstract geometric language and technical symbol of diamond also makes us irresistible. The Arçelik Diamond Carbon Fiber Refrigerator design uses carbon fiber materials based on traditional white electricity. Created a unique geometric, advanced technology and human nature fusion products. The goal is unique, durable and warm. The solid wood carved door handles and touch-resistant fingerprint display bring elegance and comfort to create your own kitchen.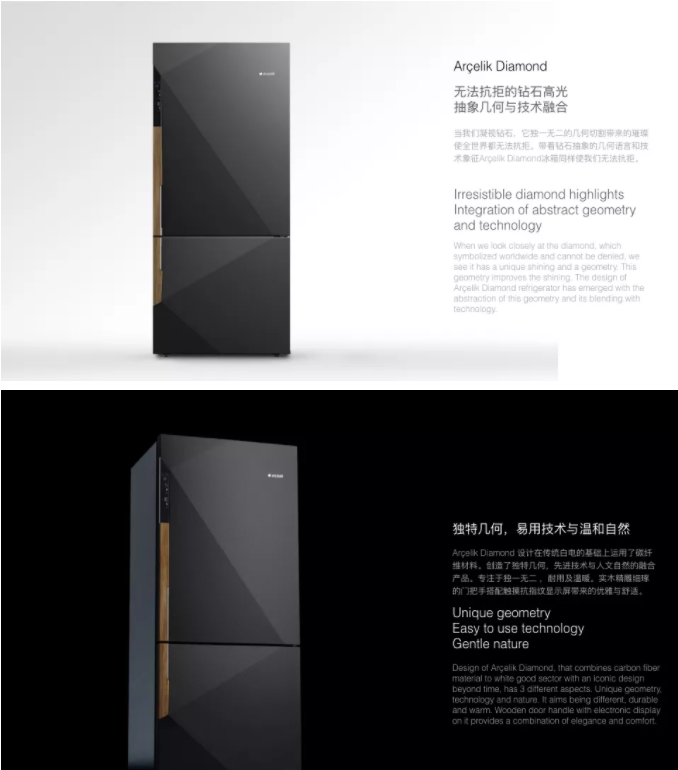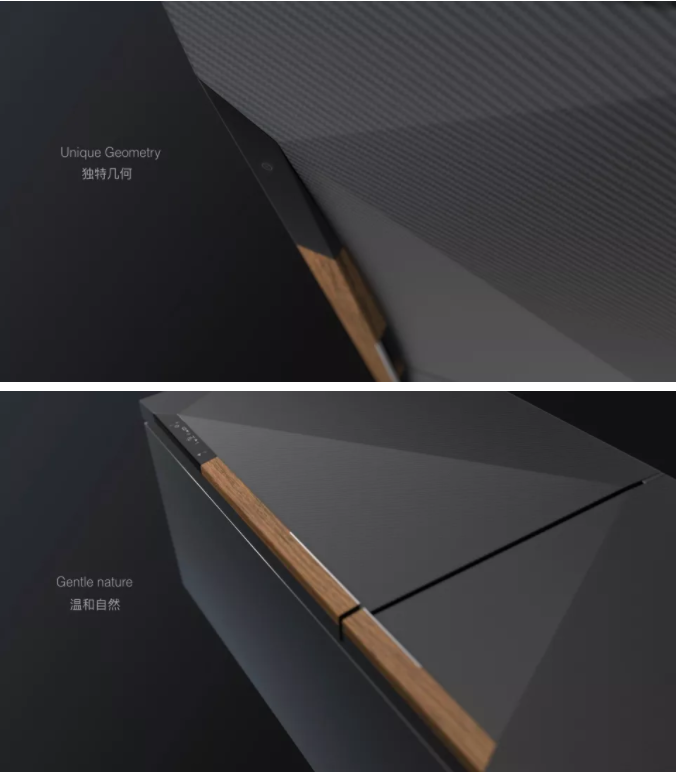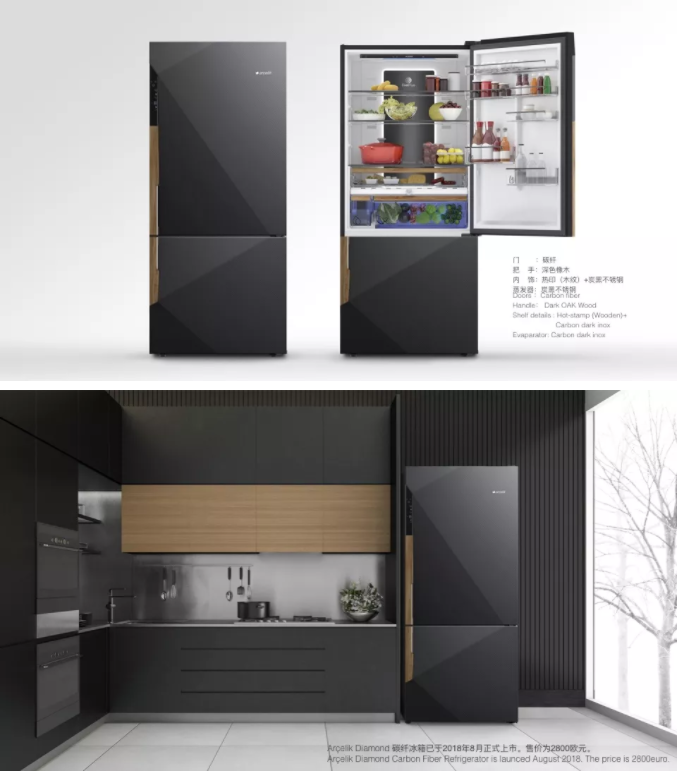 CMF DESIGN AWARD
GD Midea Consumer Electric MFG. Co.,Ltd.-"BayMax" Series
Applicant:
Zeng Haixia, Xie Fen,Tang Wenwang, Xu Shoucheng,Ye Ji, Liu Yapeng, Liang Haojian, Li Dexiang
The "BayMax" series is a major breakthrough for low-cost plastic innovation. The industry uses the laser engraving process for the first time to engrave the function menu directly on the fuselage with clear text. The plastic parts are partially thinned and the wall is thick and transparent. The parts that come into contact with the hand are made of mild pebbles, which are round and full, full of affinity, and heal the inner world of people, make the world warm and touching.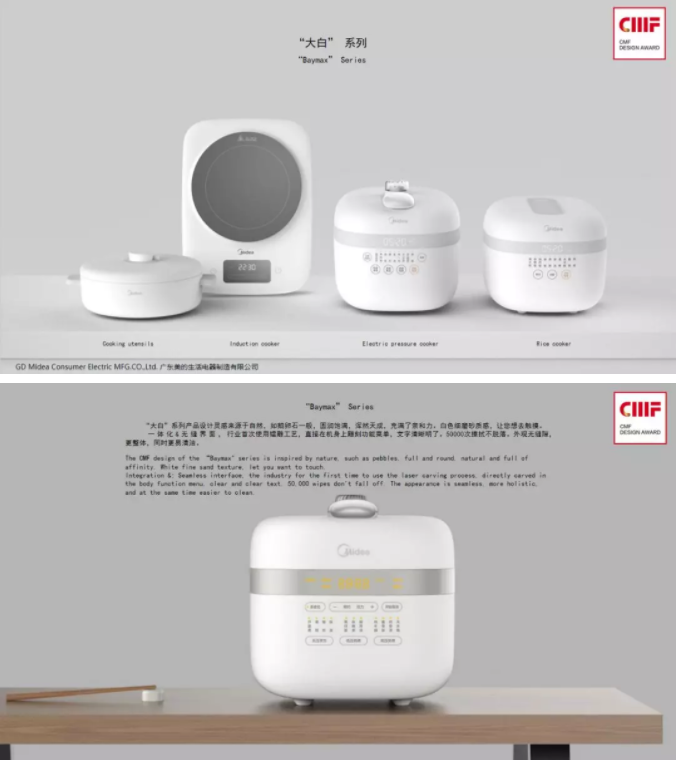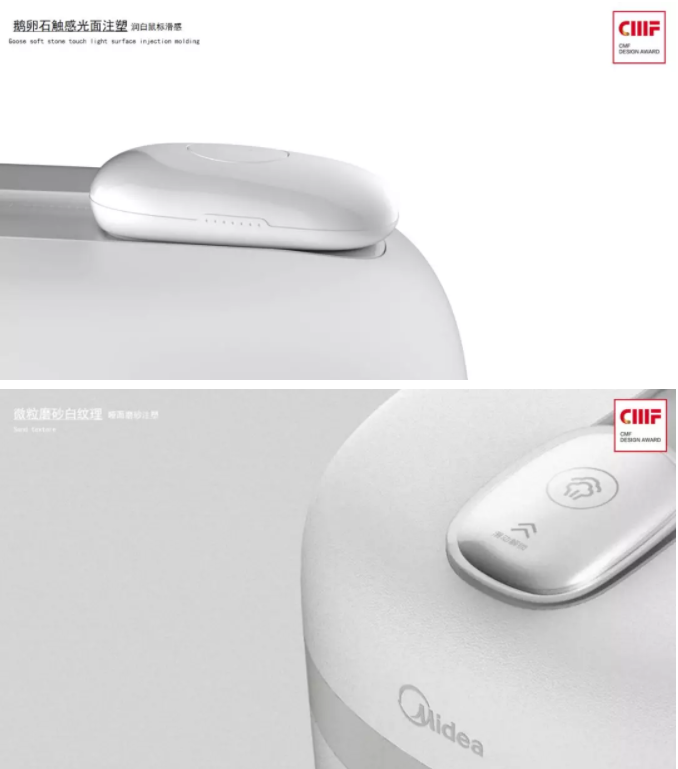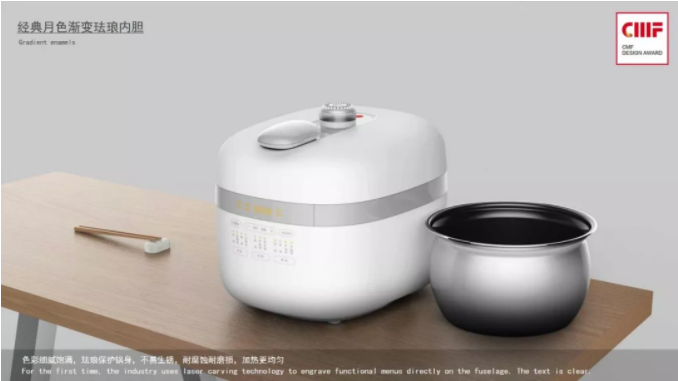 CMF DESIGN AWARD
Shanghai Chunmi Electronics Technology Co., Ltd.-TOKIT Smart IH Rice Cooker
Applicant:Wong Chung Kin, Hung Wei Hung
TOKIT Smart IH Rice Cooker adopts the manufacturing standards and experience,and it products to upgrade traditional kitchen appliances to a new level. It can be connected to an intelligent mobile device to extend its 8-state precise control of cooking time and firepower output from the IH heating system. It can not only cook rice better, but also be capable of cooking methods such as stewing, boiling and braising. Users only need to follow the full video cooking steps provided by the App, add ingredients and press the start button. The original intention of the design of TOKIT Smart IH Rice Cooker is to lower the threshold of cooking through the assistance of intelligent technology, so that people can easily enjoy the fun of cooking.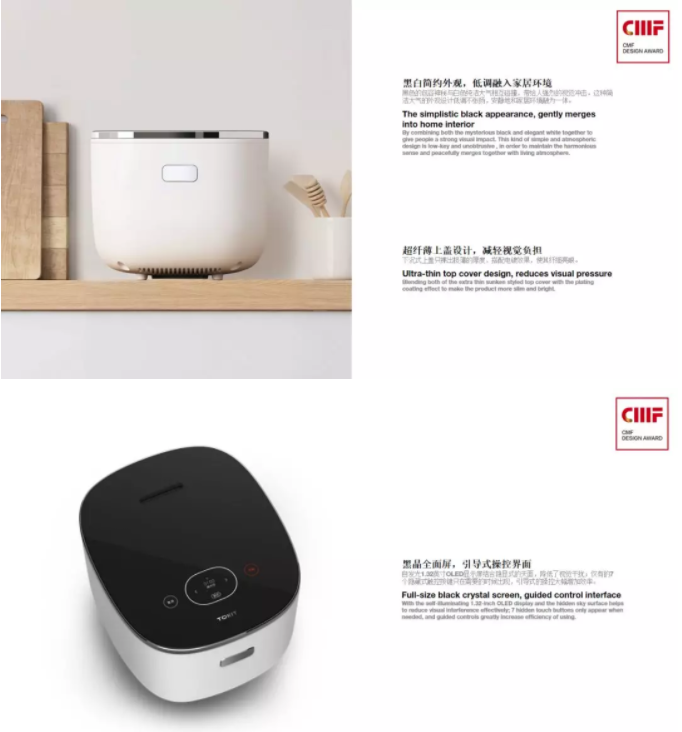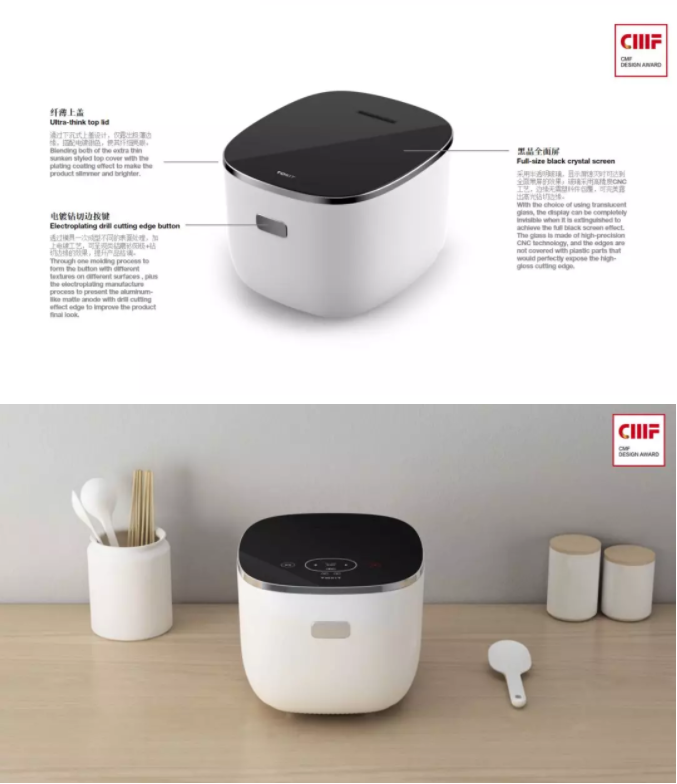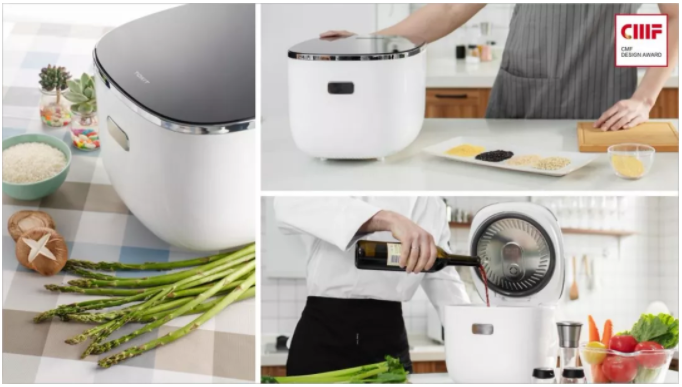 CMF DESIGN AWARD
Kingclean Electric Co., Ltd-F6 Hair Dryer
Applicant:
Qiankun Xue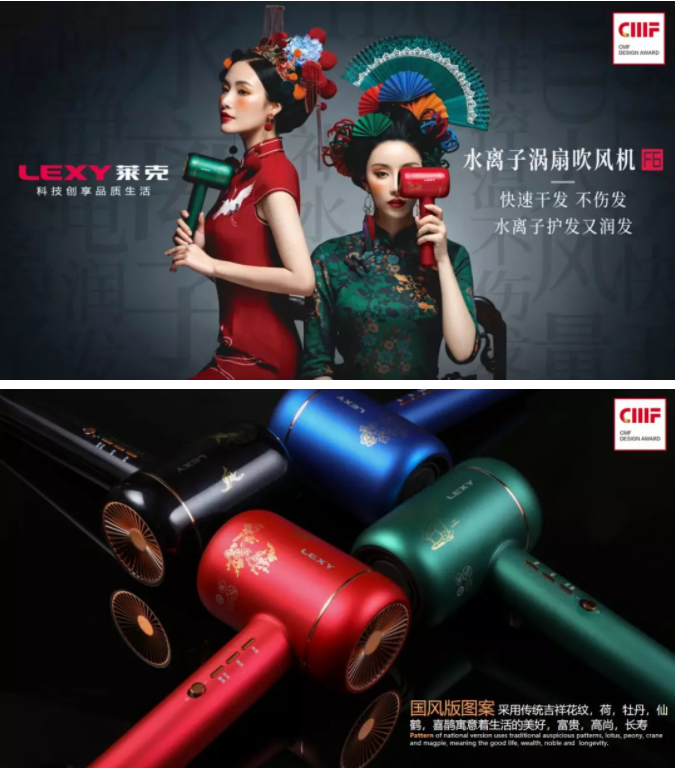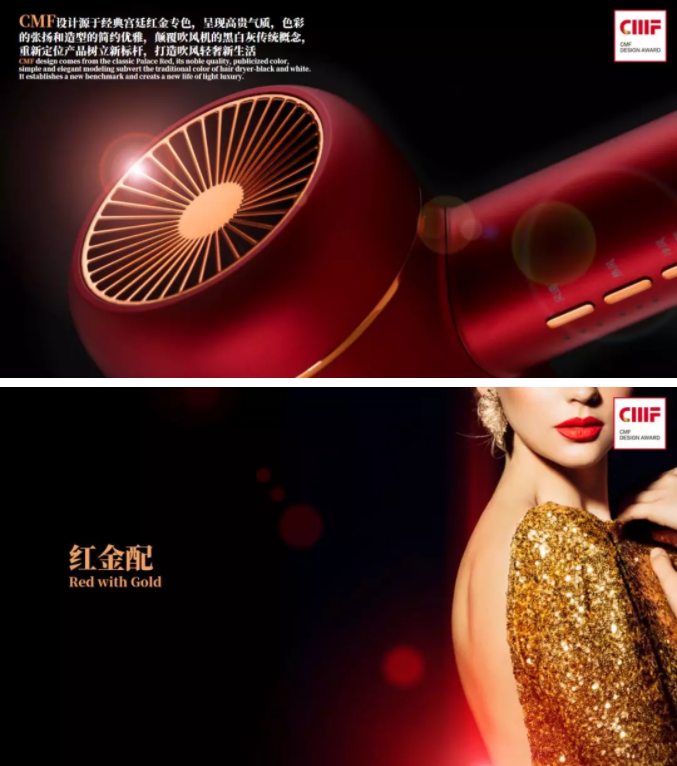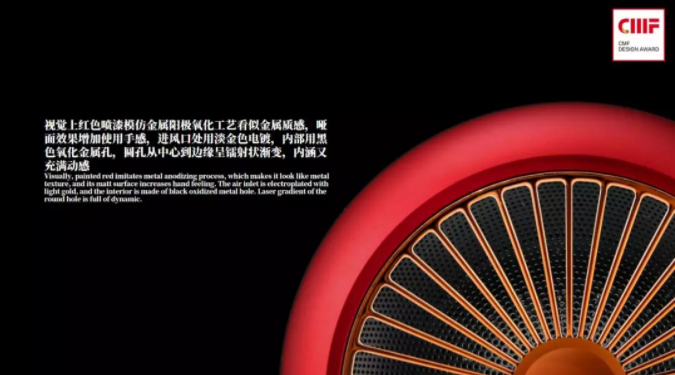 CMF DESIGN AWARD
Shenzhen Konka Electronic Technology Co., Ltd.-G1 Intelligent Speakers
Applicant:
Liang Qin,Chang Hao,Jin Yong,Chen Xiaozhen
1. The overall shape G1 is an AI intelligent voice speaker. Through advanced anti-interference algorithm, it can respond sensitively within five meters and interact with users. The size of the entire speaker is 220mm × φ105mm. The whole is like a triangular rugby shape. The side is designed with a curved surface. The three sides are made of linen. The high-grade gray cloth mesh has a certain distance between the cloth mesh bracket and the main body, creating a sense of suspension.
2. The performance speaker has two 2.5-inch unit full-range speakers, built-in NdFeB magnetic field system. The unique acoustic structure and balanced acoustic waves at all angles allow users to enjoy a luxurious cinema-level audiovisual experience without leaving the house.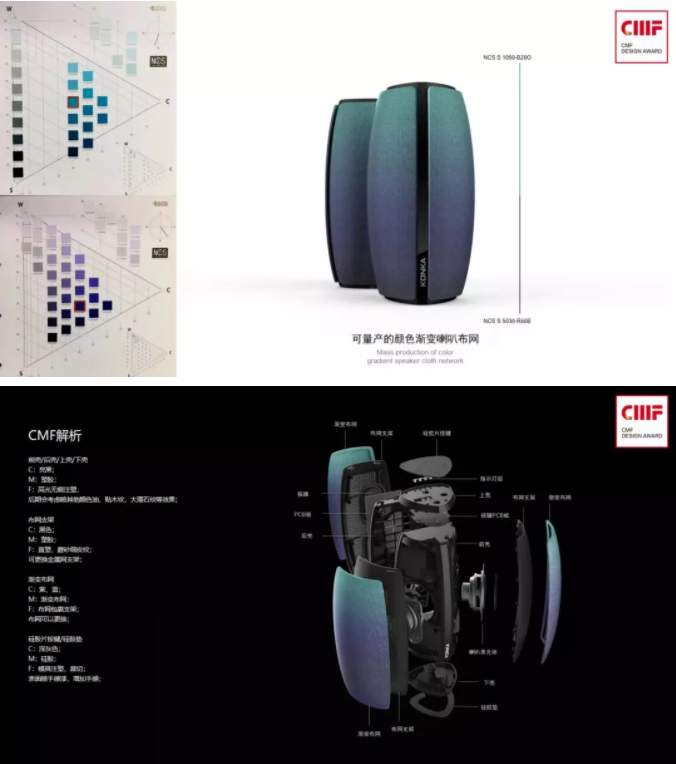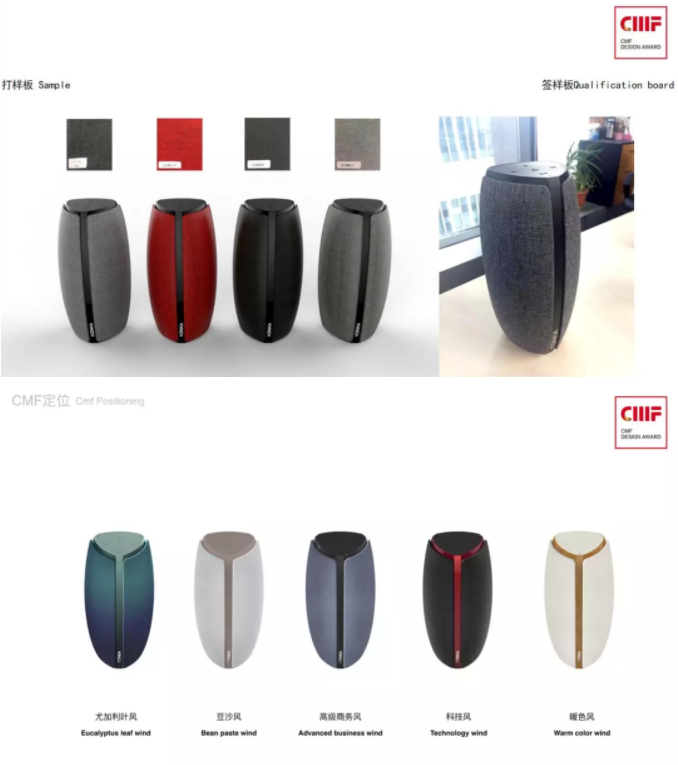 CMF DESIGN AWARD
ZHEJIANG SUPOR ELECTRICAL APPLIANCES MANUFACTURING CO.,LTD.-SUPOR T6 Vacuum Cleaner
Applicant:
John,Kevin
The design of Supor Lightweight T6 Vacuum Cleaner adopts a minimalist design concept, ingeniously scrutinizing every design detail: 1. The grip of the handheld main unit adopts the design structure of the firearm, which is easy and effortless. 2. The dust cup adopts the mirror reflection effect of vacuum plating process to block the internal dust. 3. Ring-drawing effect increases decorativeness. 4. The design on the right side without blowing the wind is more intimate. 5. Anodized metal tube is lighter. 6. Lightly brush and use smart sensor lights to design and use smarter.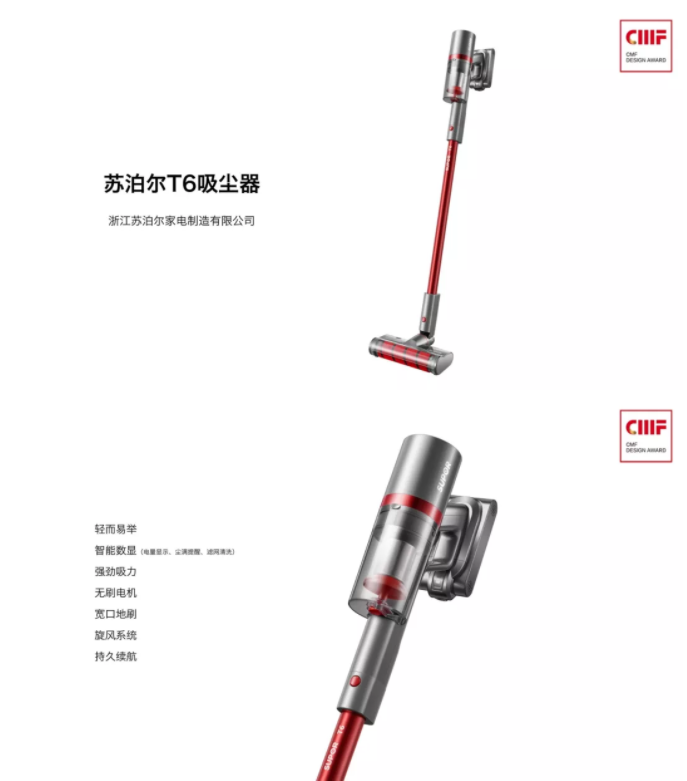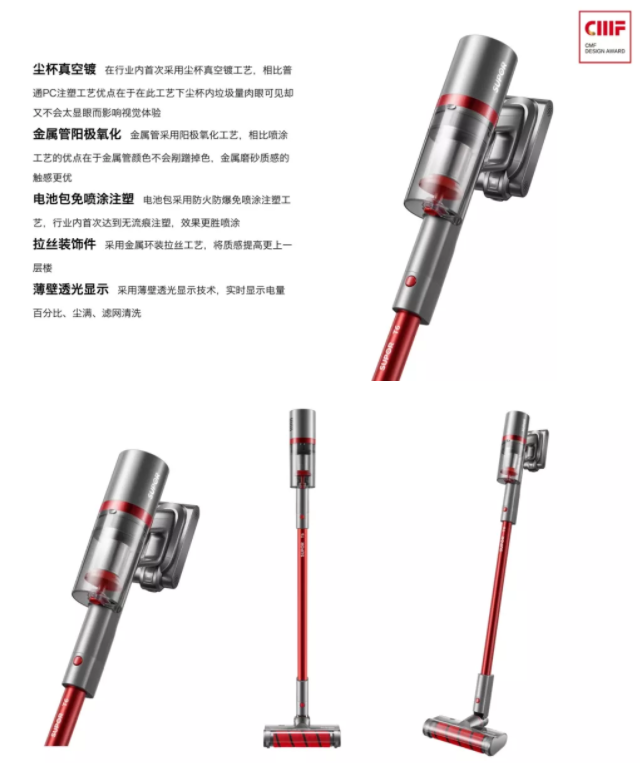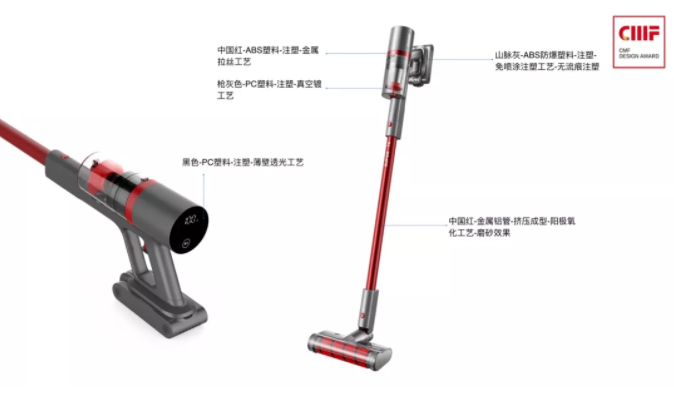 CMF DESIGN AWARD
BSH Home Appliances (China) Co., Ltd.-Bosch Ceramic Series Cast Iron Grey WashDryer
Applicant:
BSH Home Appliances (China) Co., Ltd.
The color design of the product is inspired by the beauty of minerals and rocks. The designer discovered and created unique beauty in the natural colors, forms and textures of rocks and minerals.
Throughout the design process, designers are constantly exploring the possibilities offered by the expression and combination of various materials to make the product tough and streamlined design, with different texture materials, harmonious and unified colors and patterns. The visual rhythm of birth is perfectly presented, elegant and distinctive.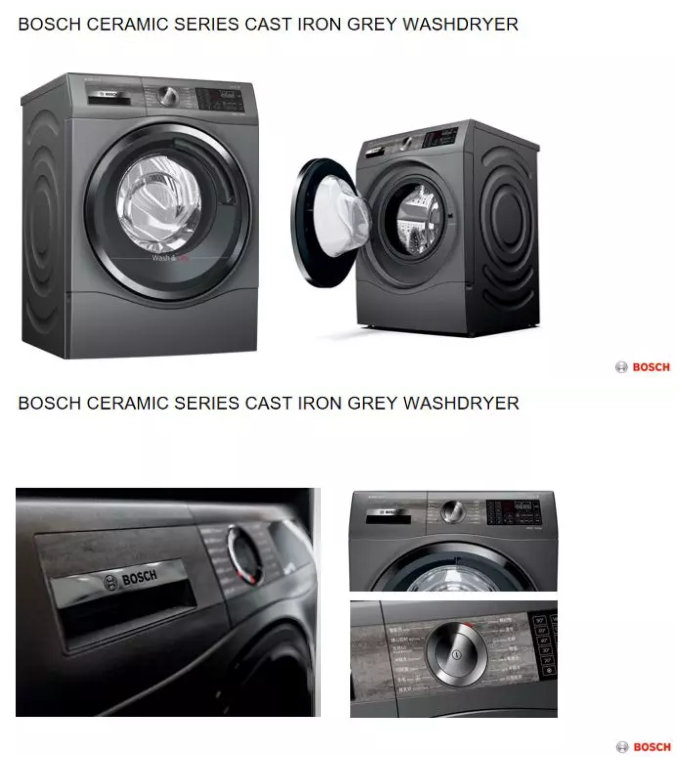 CMF DESIGN AWARD
ROIDMI-Portable Cordless Vacuum Cleaner
Applicant:
Zhang Zhiqiang,Wang Jun,Yu Weiyi,Shi Dong Lei,Wu Dong ze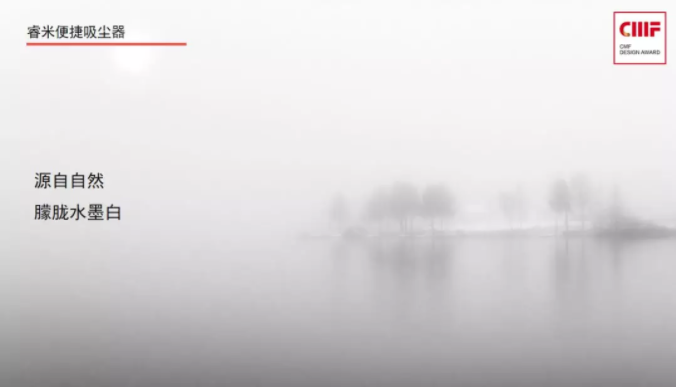 CMF DESIGN AWARD
Resideo-Honeywell Home Smart Home Security Pro
Applicant:
Brian Moy,Tu Fang,Rajat Shail,Ann Fong,Ryan Thorsen,Travis Read,Brett Vandenbussche,Drew Covi
The smart home professional security system is an extensible system controlled by an application App, with the camera base station as the core. The professional version of the product has a professional monitoring system, LTE wireless connection, and an improved alarm system. Users can enter and exit with confidence, and easily turn on the security system through face recognition, geolocation, and voice control. The system can also imitate various sounds of people or pets, and use this to reject illegal intruders monitored by motion recognition. In daily use, it can play music as a high-quality speaker, use Amazon Alexa, and voice control. In terms of styling and materials, the fabric texture and metal rings reflect the rich home style. Two optional fabric colors, dark gray and light gray, can be perfectly integrated into different home furnishings and styles.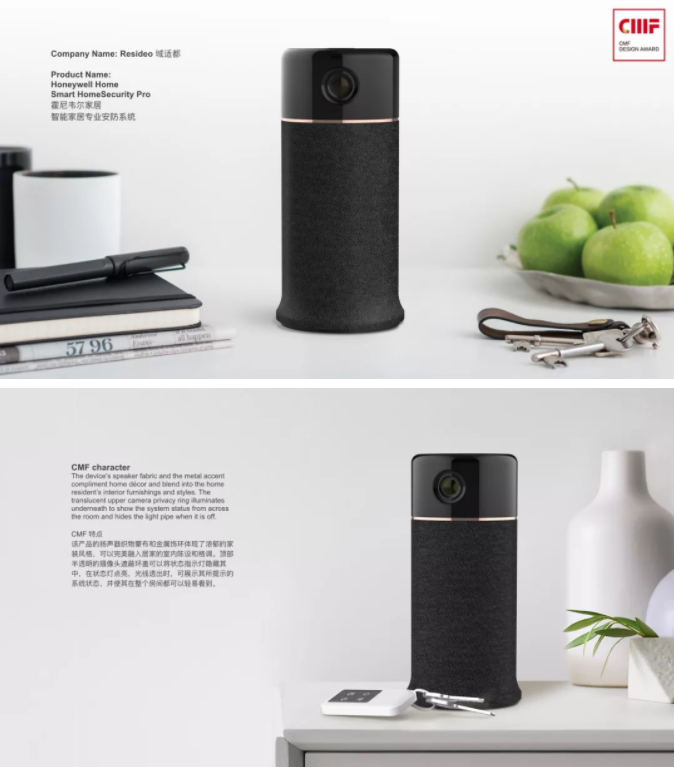 CMF DESIGN AWARD
SAIC VOLKSWAGEN AUTOMOBILE CO.,-SAIC VOLKSWAGEN TERAMONT X
Applicant:Sabine Consolini,Gao Maosen,Li Xinyuan
TERAMONT X is the world's first Coupe SUV of Volkswagen brand, positioning the flagship luxury sports SUV. The shape is derived from TERAMONT, but it is unique. Color design and modeling language coexist in harmony. Dynamic appearance: the collision and fusion of hard-core spirit and elegant charm. Shuxiang cockpit: noble and excellent materials, fashionable and dynamic decoration, and humanized intelligent control panel, create a quiet and private space for users.TERAMONT X interprets the strong temperament between the dynamics and the statics, showing the smart sense in the subtleties.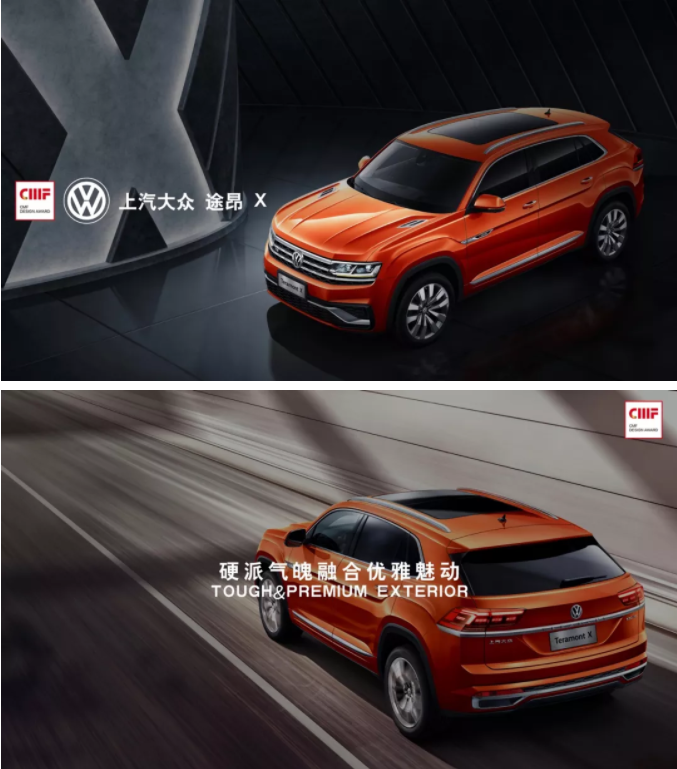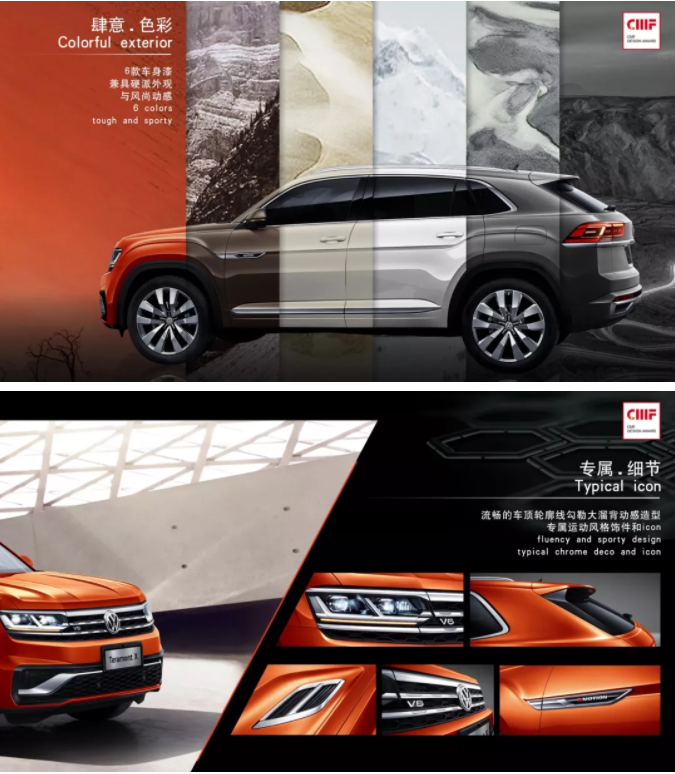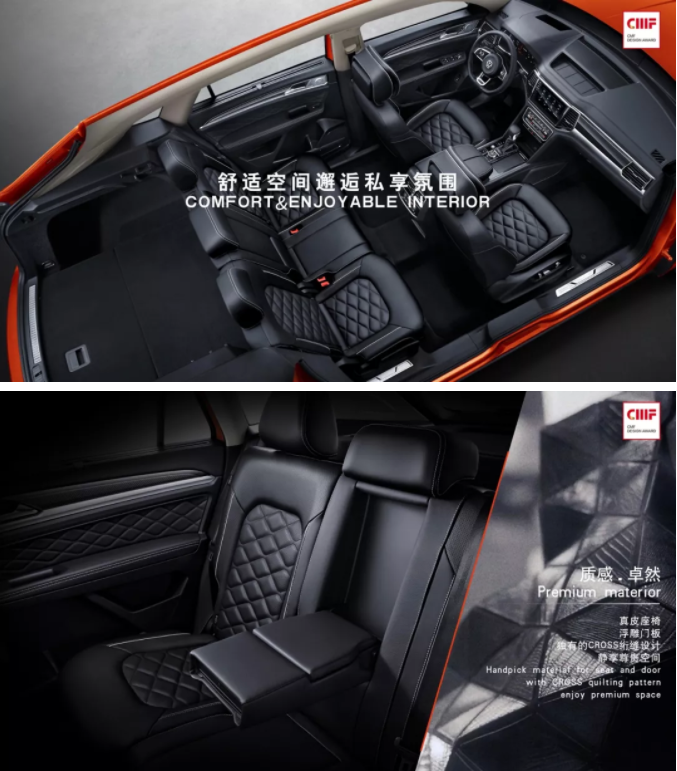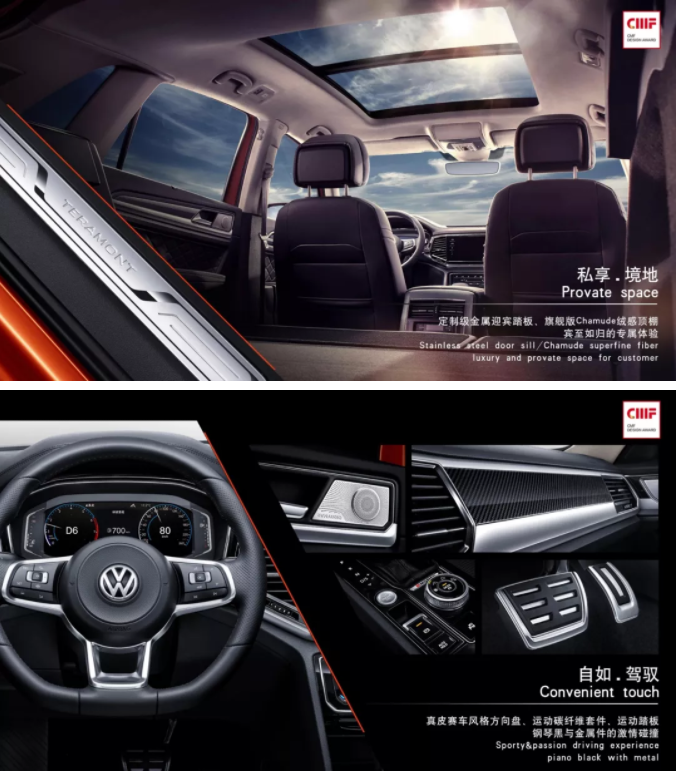 CMF DESIGN AWARD
Beijing Automotive Technology Center-BJEV-EU5
Applicant:
Yang Wang,Cici Wang
Passion Red uses a colored varnish process to make the exterior body color ambilight, reflecting youth and passion. The interior of the full LED headlights is blackened to form a sense of hierarchy, and the blue embellishment reflects the pedigree of electric vehicles. Silver chrome trim strips extend the body width visually. The interior of the Nordic home style with natural tones is stylish and warm, and the warm gray blended fabric with light beige leather reflects comfort and environmental protection. The wood grain of the instrument panel is derived from rosewood mahogany, with chrome-plated vents and piano-painted panels to enhance the overall texture. The upper IP texture is derived from water ripples, and the flowing lines reflect the fashion rhythm.
Taking the energy of new energy technology as the soul, and the simple and stylish design as the backbone, the overall color and material of the EU5 and the styling design are fashionable and exquisite, and are popular among young people.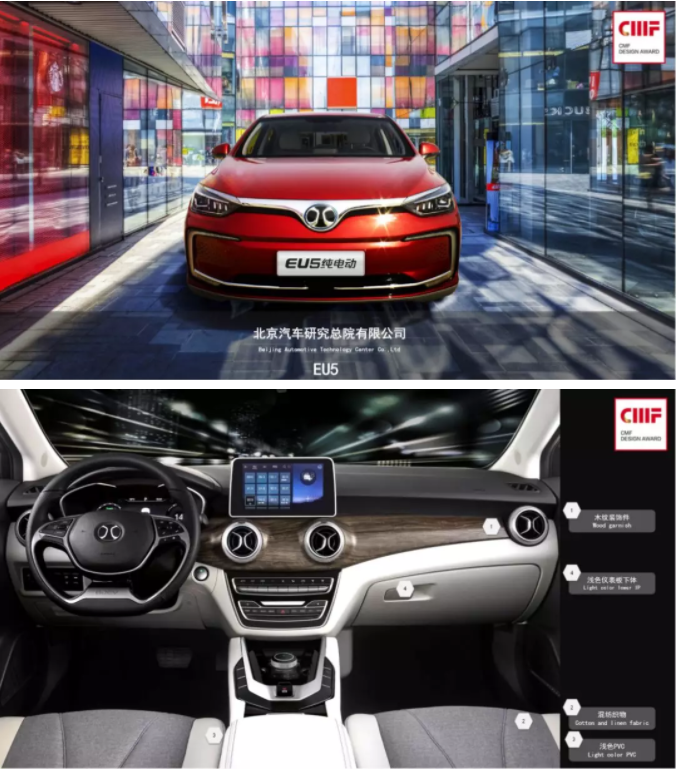 CMF DESIGN AWARD
CHONGQING CHANGAN OSHAN AUTOMOBILE CO.,LTD-CHANGAN OSHAN X7
Applicant:
YAO GUODONG,LIANG XIAOXUE
CHANGAN OSHAN X7 has opened a precedent for a new generation of independent SUVs with a brand-new research and development language, forward-looking AI smart technology and leading "generational" advantages at the same level.
CHANGAN OSHAN X7 fully respects and satisfies the user's pursuit of the appearance of the vehicle. The designer takes nature, is good at sculpting, shows his attitude, creates a beautiful design style, and gives CHANGAN OSHAN X7 a bionic natural beauty appearance; the sky Mirror super wide-angle looking around the sky, you can look up at the whole starry sky while sitting in the car, the interior adopts the "new luxury, beauty of the avenue" aesthetics, all-round soft package care, high-quality decorative design, bringing popular first-class seats enjoy space.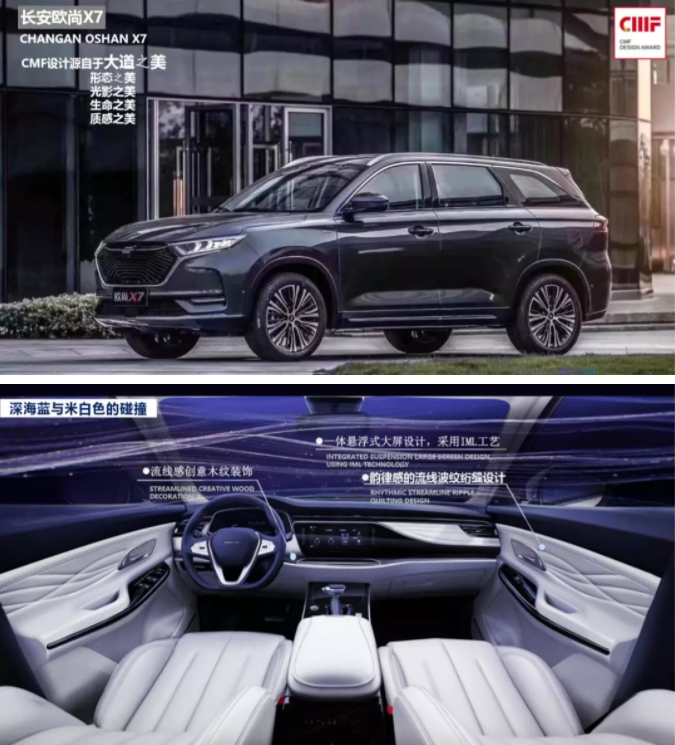 CMF DESIGN AWARD
MIDEA Residential Air Conditioner-COLMO TURING
Applicant:Industrial Design Center
COLMO turing series AI air conditioner has deep learning and humanized interactive system to realize AI micro-climate adjustment; new Bauhaus style, minimalist design, original ecological brushing effect, while bringing cold metal texture and soft velvet experience; surface treatment finishing process use large-area 5D laser engraving + UV transfer texture, CNC carved high-gloss edge, precise and exquisite; We get inspiration from the top materials, using the mineral color-zircon blue, which reflects the sense of high-end technology and gives the product a mysterious universe sense.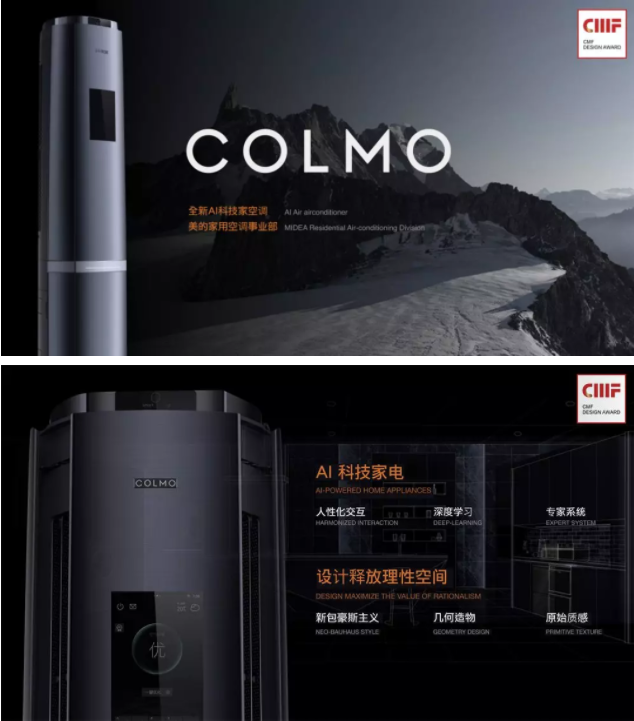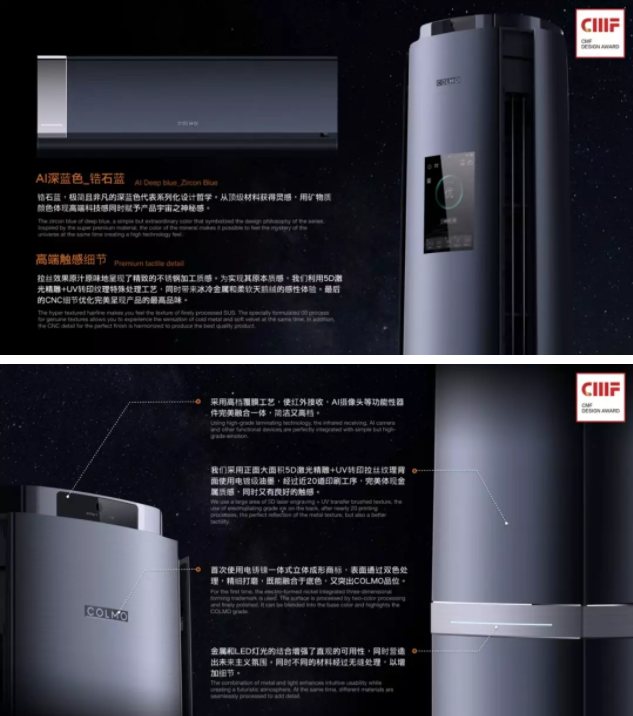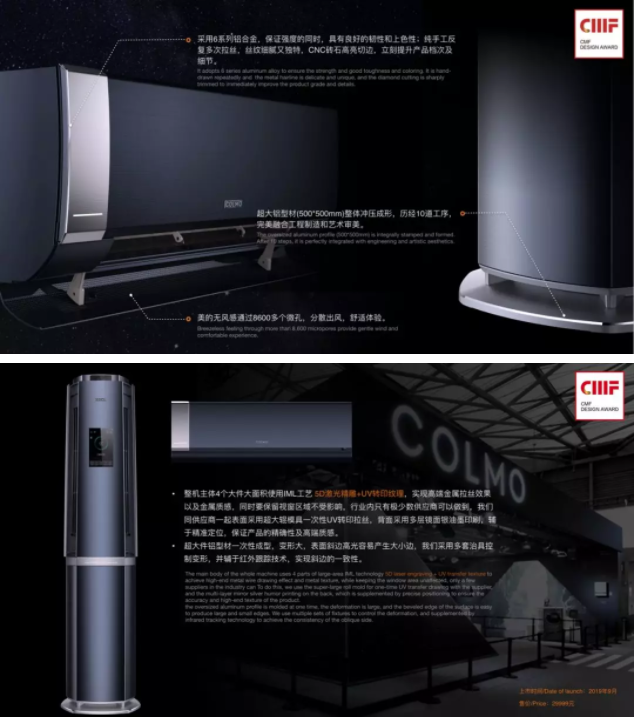 CMF DESIGN AWARD
TIANJIN SHENLING TECHNOLOGY DEVELOPMENT CO., LTD.-STARLIGHT
Applicant:Chang Jie,Xu Li Yun
This STARLIGHT exterior color adopts top-level CMW light-variable paint, which makes the difficulty of mass production double. This color requires high-quality substrates, fine polishing, no heavy metals in the paint, safe and environmentally friendly, with strong color-changing characteristics and 3D dynamic visual effects. The product has a unique color change. This car currently has two colors. It has a nice color name: Dream Jiuyue Blue, Aurora Glass Green. These two colors will exude a brilliant light at every angle. Bold innovation, courageous progress, combining technology and fashion. Take the lead in the industry.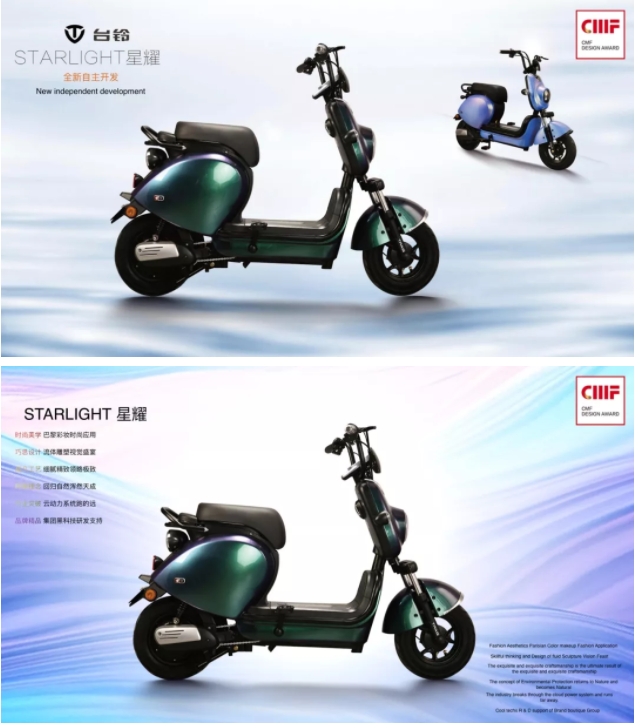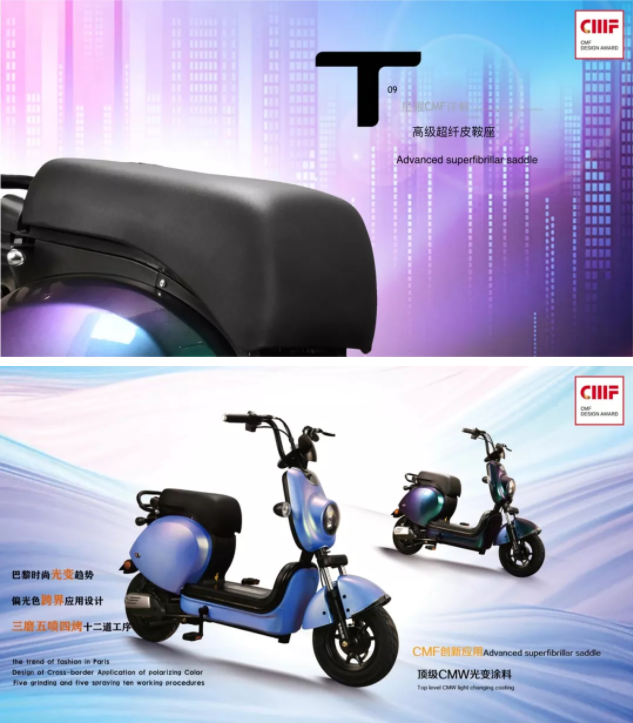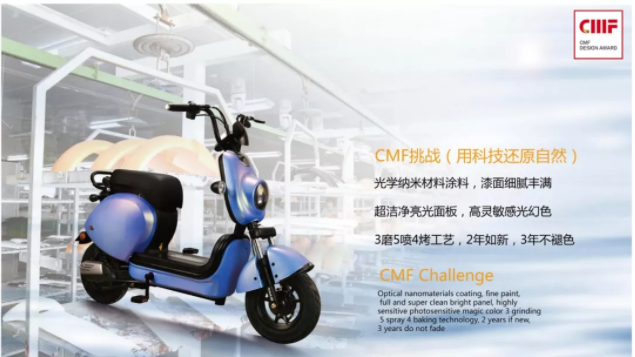 CMF DESIGN AWARD
Anker Innovations-Anker sound core liberty 2 pro
Applicant:
Jason Qu,Malcolm
Anker sound core liberty 2 pro combines dot spraying with fluff powder, repeated touch and experience, repeated scrutiny and verification, in order to make this "natural pebble" rich in attributes and aura from nature. Liberty 2 Pro's CMF design inspiration is also derived from this. CMF designers through the numerous adjustments to the surface spraying finishing process, the best balance between the external relationship between tactile and visual, once again effectively explained the original intention of product design.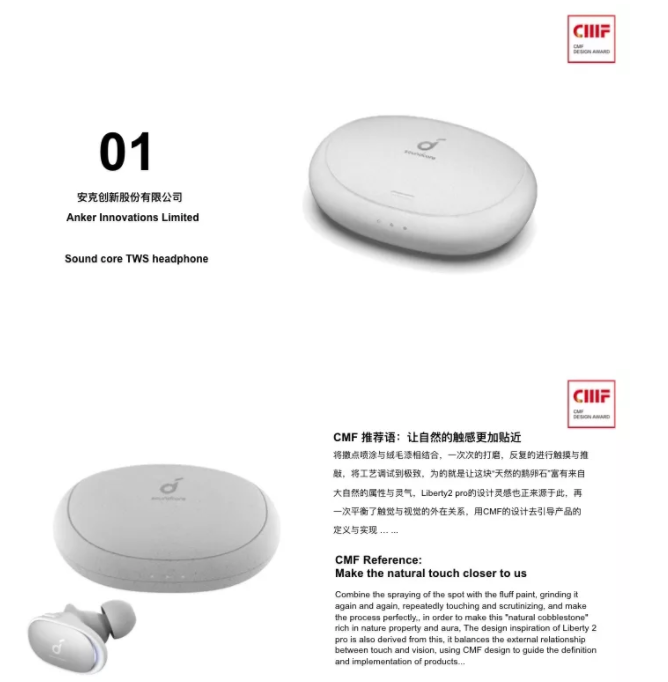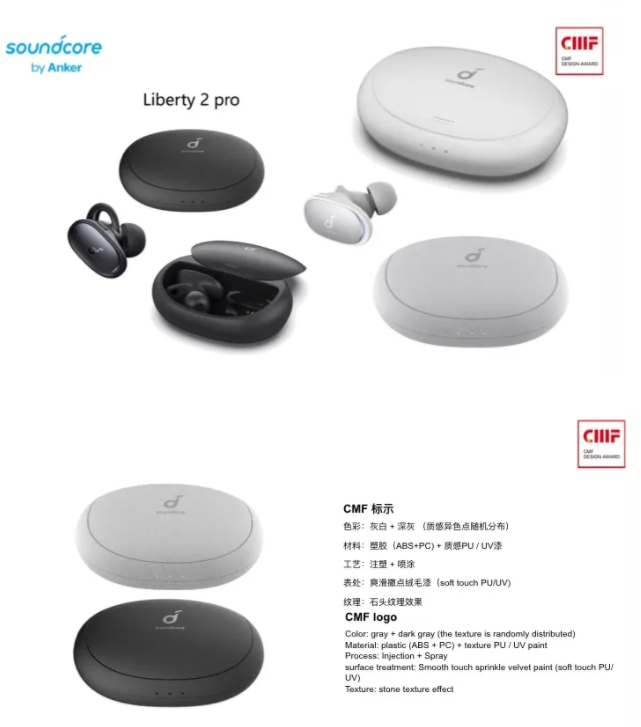 COLOUR INNOVATION AWARD
Inlight tec Co.,Ltd.-Inlight1
Applicant:
Daniel
Nanostructured pigments — 100% true-tech color, a new generation of environmentally friendly pigments, leading the future colors, adding luster to a healthy life, and letting the glory bloom unlimited possibilities!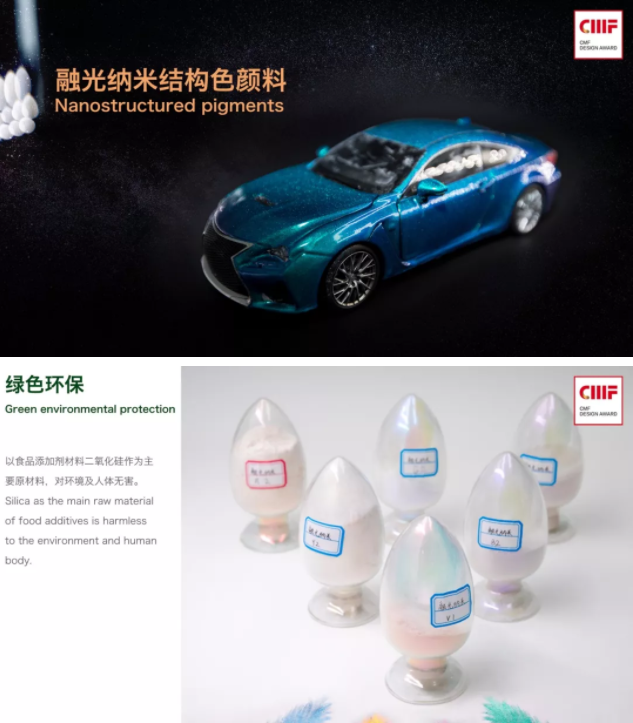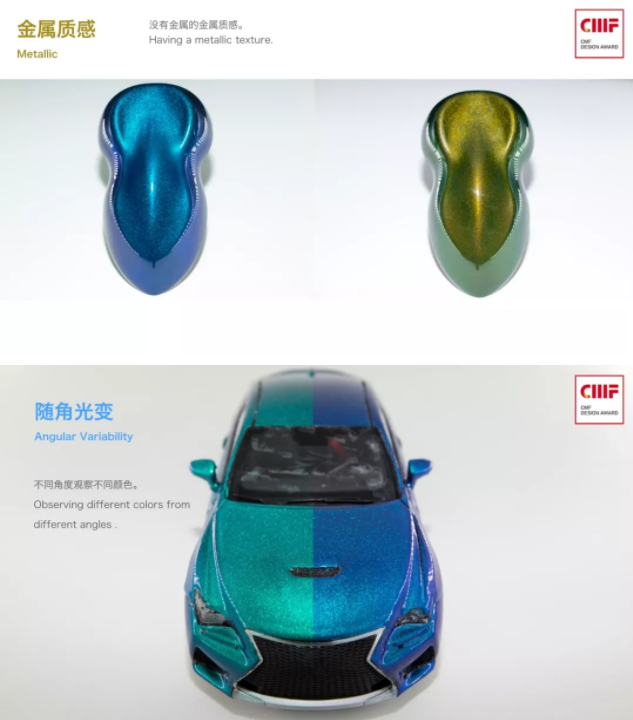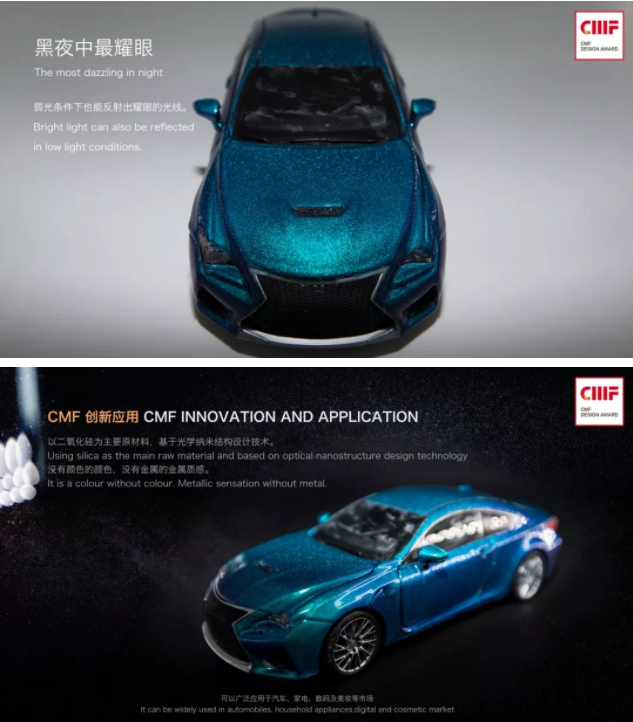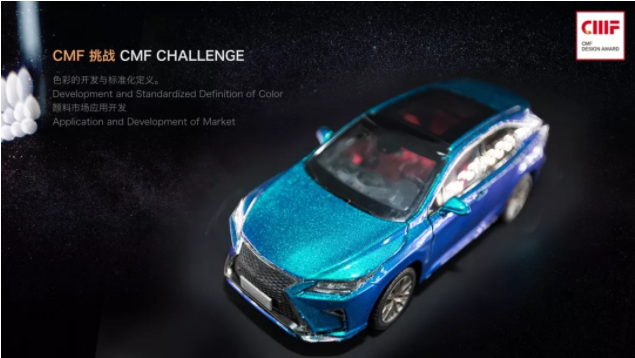 MATERIAL INNOVATION AWARD
HENAN XUANHE JUNYOU ENVIRONMENTAL PROTECTION MATERIAL CO.,LTD-XUANHE JUNYOU (INORGANIC DRY POWDER+WATER-BORNE COATINGS GLAZE)
Applicant:
Yin Shengyong
Some people say that we are born different. With enviable colors, we say that the higher pursuit of the wall is our difference. There is no anxiety about mildew in the room, and there is peace of mind here today. The mission of
XUANHE JUNYOU Inorganic Intelligent Coatings Enterprise is to let everyone breathe the fresh air in the big forest at home. XUANHE raw materials are selected from more than 50 kinds of natural ores, inheriting the combination of thousands of years of alkali glaze technology and modern nanotechnology, to achieve the black technology function of putting on the wall without putty and getting stronger with water. The wood industry has entered the era of glazing. XUANHE element technology is to break the technical barrier of traditional photocatalyst and nuclear radiation to release negative oxygen ions. Achieve continuous release of negative oxygen ions without radiation for 24 hours in 70 years. It can reach a maximum of 5000 per cubic centimeter. Breathing and humidity control, unique glaze, permanent mold resistance, antibacterial, antibacterial, fire retardant and flame retardant wall coating with life, purifying air and other functions combined with rich color technology to meet personalized wall customization needs and turn home into a forest oxygen bar
XUANHE JUNYOU was born for this.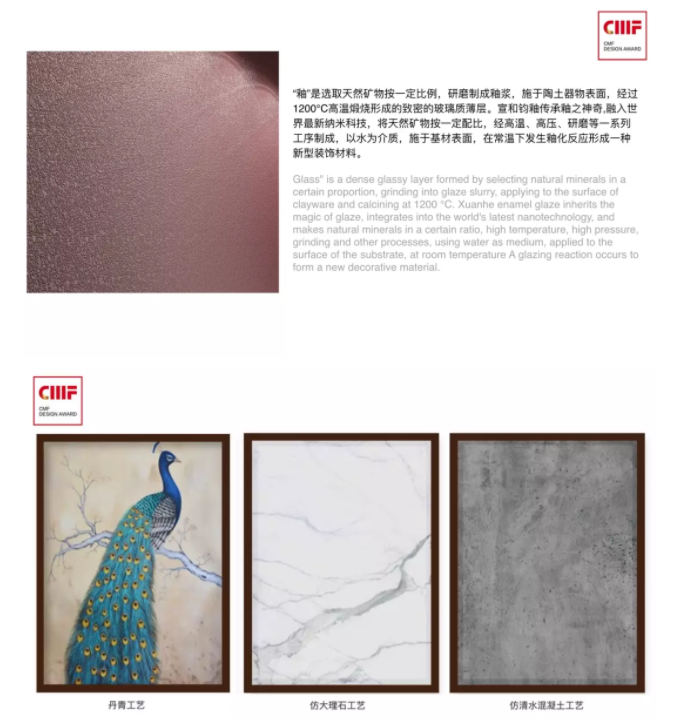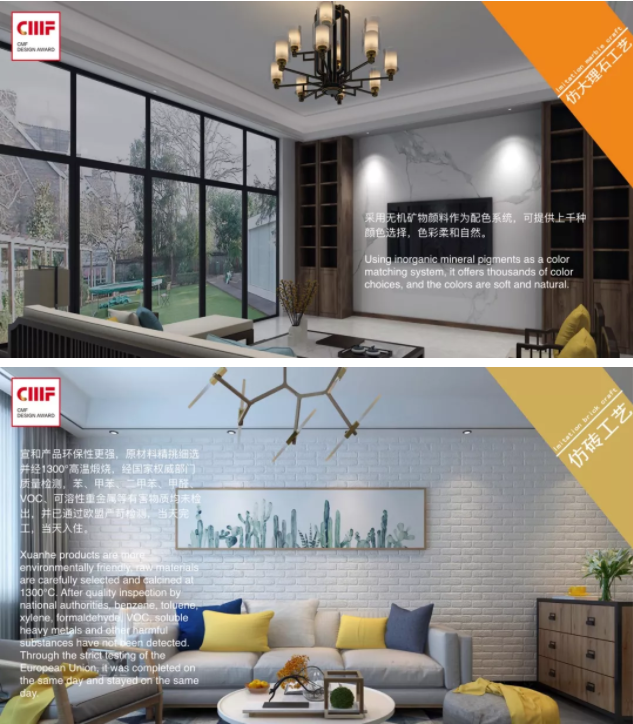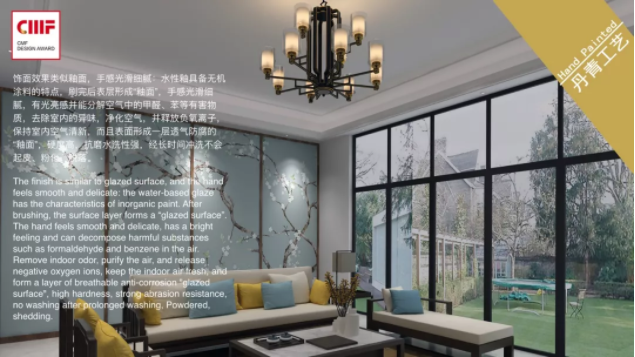 BEST COLOR AWARD
JIANGSU SHENLING HONGWEI SCIENCE AND TECHNOLOGY CO., LTD-Magic color electric bicycle
Applicant:Sunmuchu,Zhaocaiqing,Guobaochen
This electric bicycle uses high-end optical color-changing pigments, the body surface is full of paint, with a color effect. Bringing fashion and technology to electric bicycle, the ever-changing surface redefines the colors of electric bicycle.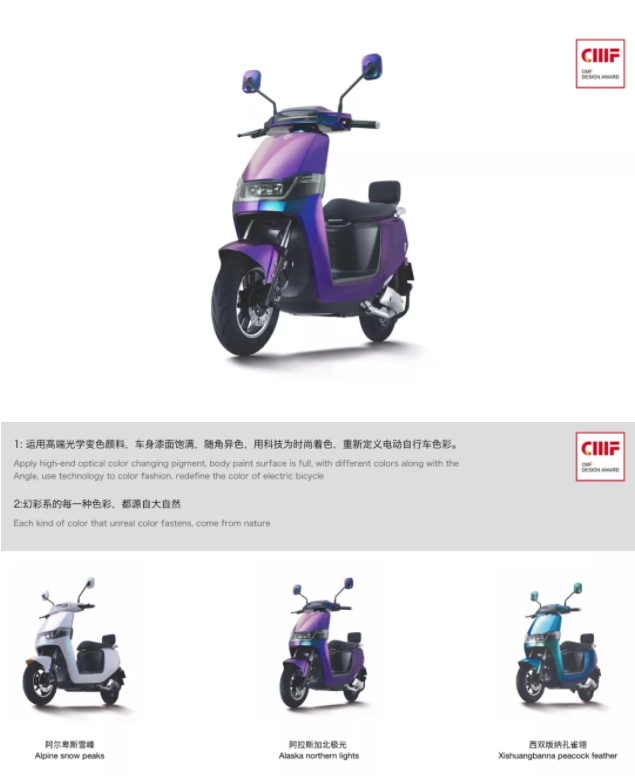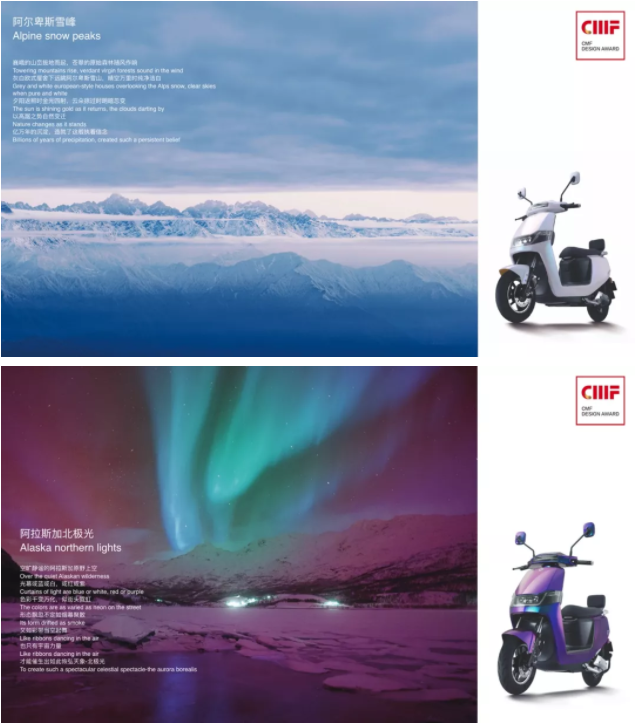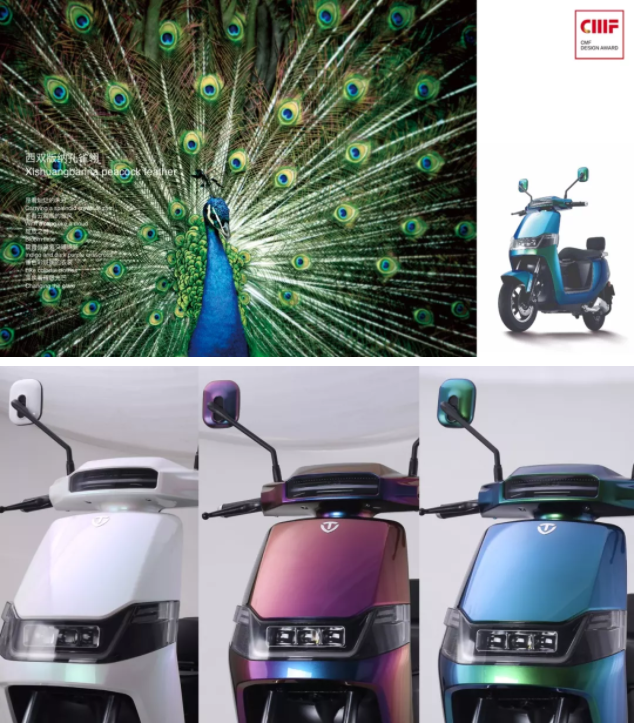 BEST MATERIAL AWARD
Kitchen&Water Heater Appliance Division/Midea Group-Midea 1903 Neo-Drinking Series
Applicant:Jianping Li,Xiaolin Li,Congcong Zhang,Ying Dong
The Midea 1903 Neo-Drinking Series reproduces traditional luxury classics through modern craftsmanship, which is the perfect combination of modern craftsmanship with nature and traditional culture. Slate and stone patterns combined with gold, embroidery and cloisonne lead the new trend of national style. The panel adopts the industry's first high-temperature glass front technology, stronger performance satisfaction, better home integration, and lower production cost, which has a milestone significance for the popularization and application of the rock plate effect in the product.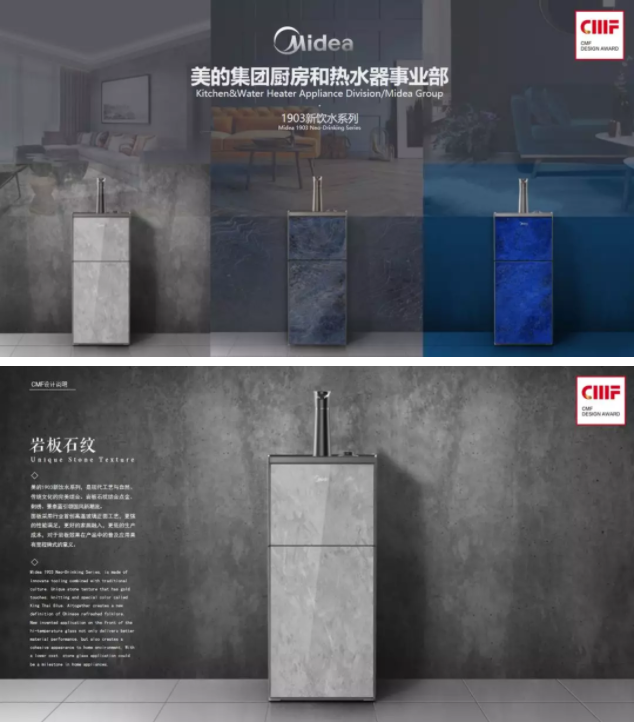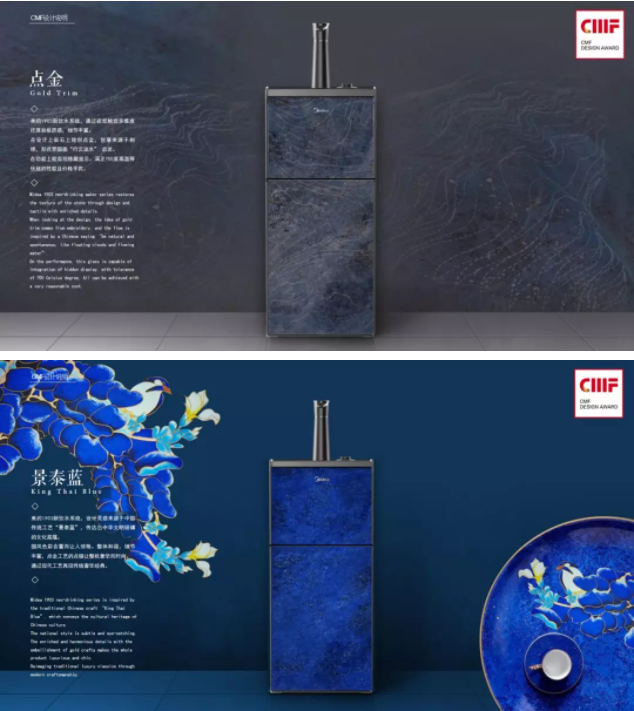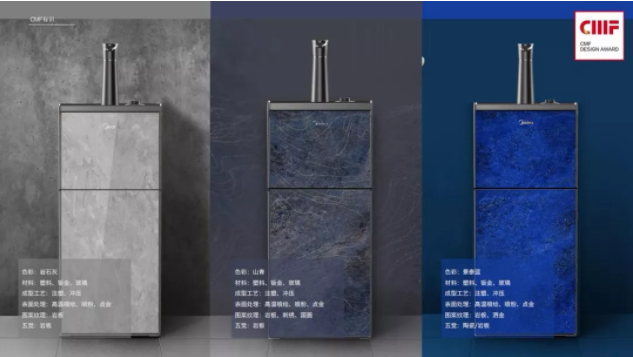 BEST FINISHING AWARD
China Mobile Group Device Co.,Ltd.-China Mobile Smart Watch W10
Applicant:
Xiaobin Zhu
W10 smart watches are divided into two types of SIM card and eSIM, with independent communication function. With ten meters underwater waterproof performance. Integrated heart rate detection, intelligent voice, GPS positioning and other functions. The ceramic bezel is sturdy, wear-resistant and full of quality. The ceramic bezel has been carefully polished and brushed to bring the luster of the metal and the delicateness of the ceramic. The laser engraving degree on the ceramic surface and oil filling enhance the visual level of the product.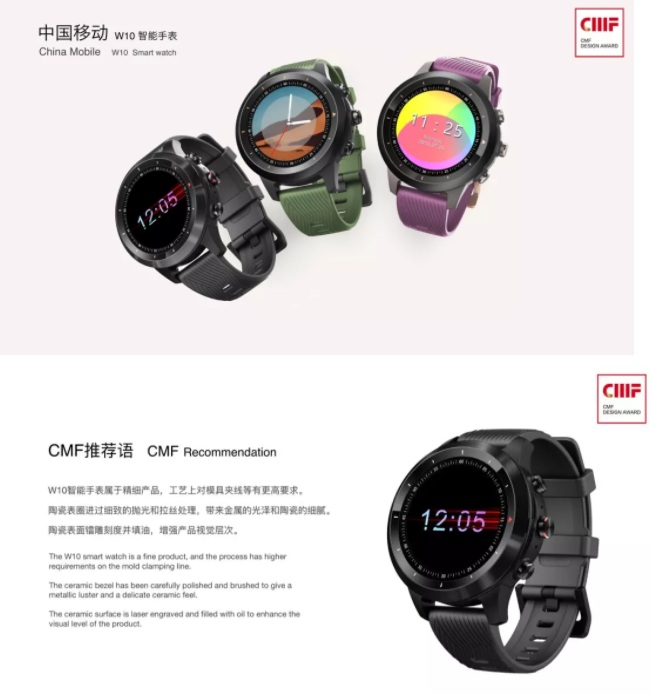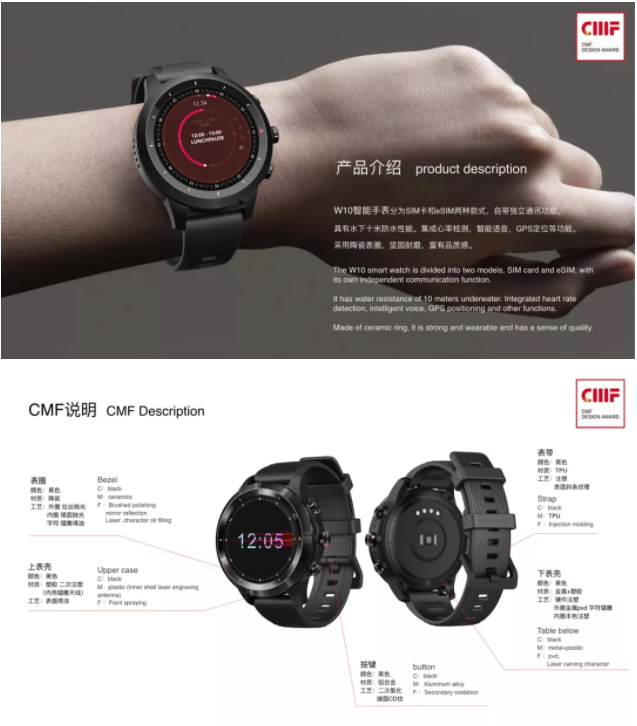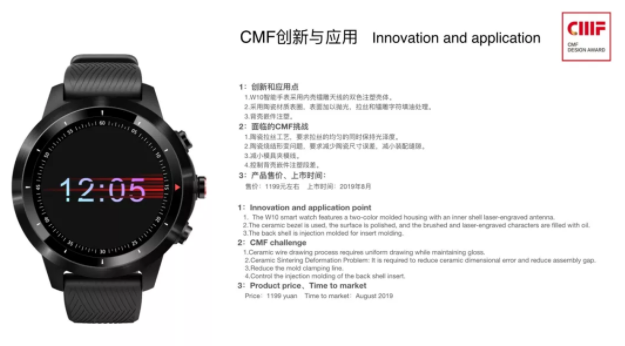 BEST DESIGN AWARD
Ningbo AUX Electric Co., Ltd.-Yun Shang
Applicant:Li Liang,Yi Dongchang,Shu Honhui,Long Teng,Chen Fang
Yun shang cabinet adopts "pebbles" full and round design style; the whole machine adopts natural marble texture and wood grain top cover decoration design, making Yun shang a more air-conditioned product with a more natural design style.